For cannabis growers, the outdoor season inspires joy and fulfilment. Tending to plants under the blazing sun is its own form of meditation. In this guide, we provide our top tips for growing cannabis outdoors in 2022. Read up, prepare yourself, and achieve the harvest of your dreams!
Growing cannabis outdoors comes with many benefits. Apart from being a thoroughly enjoyable experience, it allows growers to rear bigger plants with better yields. Read on to learn how to grow cannabis outdoors.
Growing Cannabis Indoors vs Outdoors: Differences
Growing outdoors usually means more space to work with, plenty of sunshine, free rainwater, better ventilation, and the joy of cultivating in the elements.
However, growing outdoors also comes with a set of challenges. Plants are more vulnerable to pest insects, larger predators, heat waves, and cold snaps.
Growing indoors offers plants more shelter, and cultivators are in complete control of the growing environment. They are free to change temperature and humidity settings, and their plants are more concealed.
With that said, indoor growers usually have less space at their disposal, less potential for massive yields, and have to splash money on electricity bills to run their setup.
Growing Cannabis Outdoors
Sun. Fresh air. Soil. Growing cannabis outdoors offers a plethora of benefits for cultivators and cannabis plants alike. Everything from free resources to more time spent outside make it a worthwhile pursuit.
Benefits Of Growing Outdoors
- Larger plants
- More space
- Free rainwater
- Sunshine (cheaper than lighting)
- No need to change light cycle
- Ventilation helps keep mould at bay
- Companion plants
- Beneficial insects
- Soil rich in native microbes
- Opportunity to practice regenerative methods
Choosing Location
After deciding to grow outdoors, you'll need to decide where to position your plants. Find an area that provides stable temperature, adequate sunlight, and shelter from harsh weather.
Make sure the area of your garden/position of your planting containers meets the following demands when growing in Europe in 2021:
• Temperatures never drop below 12°C
• Temperatures never exceed 30°C
• 6–8 hours of direct sunlight each day (south-facing location is ideal)
• Shelter from torrential rain and heatwaves (e.g. temporary tarpaulin, greenhouse)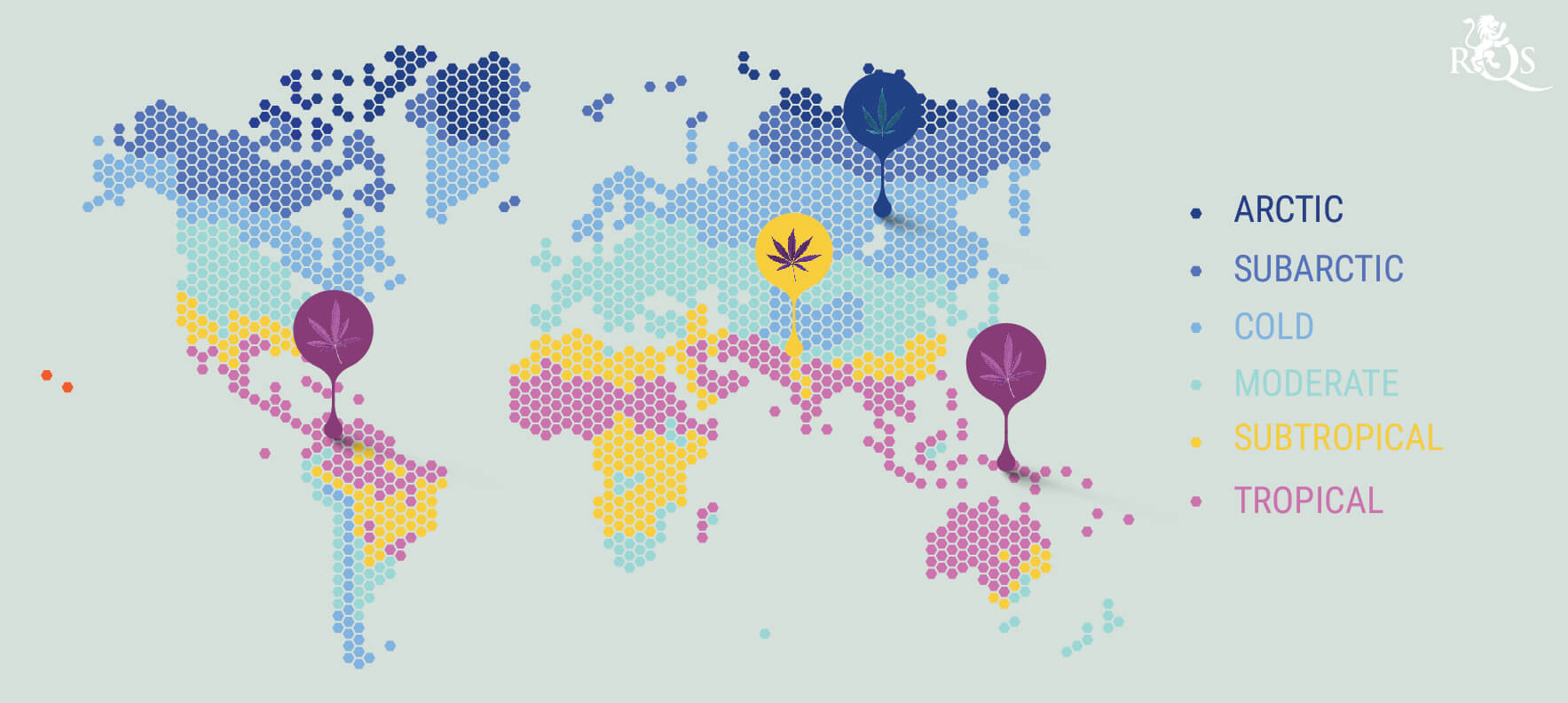 Growing Locations
As a robust herb, cannabis will happily grow in a variety of locations. Some cultivators have a spacious garden at their disposal, whereas others are limited to smaller spaces.
The accessibility of balconies makes them a great place to grow weed. However, certain variables pose drawbacks that will significantly change the size of your harvest.
| | |
| --- | --- |
| Pros | Cons |
| Fresh air and natural light | North-facing balconies receive almost no direct sunlight |
| South-facing balconies receive sunlight all day | High-rise buildings expose plants to strong winds |
| Reduced water and electricity bills | - |
Growing weed on a rooftop or terrace provides advantages that balconies lack. However, they do come with a few risks of their own.
| | |
| --- | --- |
| Pros | Cons |
| Rooftops receive sun all day long, considering they aren't blocked by taller structures | More exposed to the eye in the sky |
| Good exposure to rainwater | Plants are more susceptible to storms and intense heat |
| More concealed to neighbours and the public than balconies | - |
Private gardens are one of the most pleasant places to grow cannabis. Cultivators often get lost in the tranquillity of tending to their crop in the summer months.
| | |
| --- | --- |
| Pros | Cons |
| Plenty of space | Chance of pests |
| Opportunity to grow companion plants in a polyculture | Risk of soil mould, such as Fusarium |
| Hidden from public view | - |
Guerrilla growing enables cultivators to raise plants outside of their own property. By selecting a concealed location out in the countryside, weed lovers manage to fill up their stash jars with minimal risk along the way.
| | |
| --- | --- |
| Pros | Cons |
| Stealth | Plants are exposed to bad weather and flooding |
| Low-risk | Increased risk of pests and diseases |
| Cheap, with almost no overhead | Hikers might stumble across your crop |
Greenhouses offer the best of both worlds. They make use of natural sunlight while offering the warmth and shelter of an indoor environment.
| | |
| --- | --- |
| Pros | Cons |
| Opportunity to extend the outdoor growing season | Plants may become stressed during heat waves |
| Protection against some species of pests | Stale air and humidity can build up if an inadequate ventilation system is in place |
Factors To Consider When Choosing a Growing Spot
Every growing location has its own advantages and disadvantages. While some cultivators are limited to a single spot, others can choose from several options.
Watering can become quite the chore. Outdoor plants will receive rainfall, but also face the reality of droughts. While watering an entire cannabis garden or greenhouse each day can become a challenge, setting up an irrigation system makes it almost effortless.
Plants in guerrilla growing spots naturally face more neglect than those grown closer to home. Try to choose a location close to a stream so you don't have to carry heavy vessels of water to your secret location.
Pots allow growers to easily move their plants to safety when conditions get rough. Smart pots and air pots also help to minimise fungal infections and keep root systems aerated.
On the other hand, raised beds enable growers to cultivate multiple companion species within the same block of soil. Not only does this enrich the biodiversity of the soil, but it also creates a shield of protective plants that fend off pests while attracting beneficial insects.
Excessive light pollution from street lights may cause cannabis to remain in (or revert to) a vegetative state. Growers facing these conditions should consider autoflowering strains. These varieties grow rapidly and don't require a specific light cycle to begin and sustain flowering.
Those growing on balconies, rooftops, and in gardens should erect barriers and fences if they live in areas with strong winds. If you plan on mulching, go for heavier substrates pinned down with rocks, as opposed to straw and sawdust.
Aim to grow plants in the sunniest spot you have access to. Cannabis requires a minimum of six hours of uninterrupted daily sunlight to perform well.
If you're growing in an open garden, or your balcony is on the first or second floor, your plants will be exposed to other weed-lovers. Make sure to protect your plants from thieves and hungry animals alike.

Genetics
After selecting a location, you'll need to choose a strain to grow. Here, you'll need to consider your growing environment, and what kind of effect you're looking for from your cannabis.
If you live further north and experience a shorter growing season, hardy and fast-flowering genetics such as autoflowers are a good choice. For those living further south, towering sativas that take longer to flower are a suitable option, and hybrids will thrive in these conditions.
Are you looking for a specific flavour? Research the terpene profiles of the strains you're considering. This will give you a window into the sensory experience. Do you prefer fruity or earthy? Citrus or candy?
You can also use seed bank data to estimate the size, flowering time, and yield of a particular strain. If you can grow openly, consider a tall and highly productive strain. If you need to be more discreet, choose a smaller and more stealthy variety.
Germination
The first phase in your cannabis plant's life is germination. During this process, your seed will form its first taproot and emerge into a seedling. Germination requires three specific factors: darkness, humidity, and moisture. Together, these elements will activate your seed. It just so happens that soil provides the perfect venue!
Growers in warm climates can start their plants directly in pots or garden beds outdoors. However, plants require high humidity during the seedling stage. Consider starting outdoor plants in a greenhouse or polytunnel.
Those in colder climates can get a head start by raising their seedlings indoors during the chilly spring. Transplant them directly into the soil or into larger outdoor containers when the weather warms up.
Before germinating your seeds, secure some high-quality soil. Organic soil provides everything your plants need to thrive: nutrients, beneficial bacteria, and synergistic fungi.
To germinate your seeds, poke a hole into the topsoil in a garden bed or pot. Place the seed in the hole and gently cover with soil. Add a little water. You'll see the first shoot emerge within 2–7 days.
The seedling stage will last around two weeks. Provide consistent lighting, humidity levels of around 70%, and water sparingly.
Maintaining The Plant
The vegetative phase begins once the seedling stage comes to an end. During this time, your plants will focus on photosynthesising and creating energy to fuel development. Expect a flurry of large fan leaves to proliferate throughout this phase. To maintain your plants, you'll need to consider the following:
Only water after the top 3–5cm of soil has become dry. If you don't wait long enough, your plant can become vulnerable to root rot and other nasties.
Test your soil occasionally and make sure it stays within a pH range of 6.0–7.0—the optimal range for nutrient absorption.
A Word on Watering
Aim to water your plants every time the top inch of soil becomes completely dry; any more and you risk encouraging root rot. If you plan to take a vacation during the growing season, set up an automated system to ensure your plants stay hydrated.
Preventing Pests
As one of the main challenges for outdoor growers, pests can be managed and prevented using the following tips:
• Predatory insects: Introduce predatory insects such as ladybirds and parasitic wasps to protect your plants against pest species.
• Companion planting: Plant basil, lemon balm, or dill to repel pest insects.
• Beneficial fungi: Soil that contains mycorrhizal fungi can help capture and kill nematodes—soil microorganisms that attack cannabis roots.
• Physical barriers: Erect chicken wire fences and other barriers to prevent larger animals such as deer and birds from munching on your crop.
Protect Against Pollination
You'll need to defend your plants against pollination to produce the best bud possible. Pollinated flowers are smaller, loaded with seeds, and less potent. Although other pollinating species can greatly benefit your garden, growers need to actively prevent male plants from ending up in the growing space.
If you do happen to be growing regular cannabis seeds, you'll need to be proactive about sexing your plants as they mature to prevent fertilisation.
Outdoor Grower's Calendar 2022
This calendar revolves around the average climate in Europe. If you live in a more extreme climate (or in a different hemisphere), it's worth looking into the relevant growing conditions.
Also, different strains will move much faster or slower than others. Keep the individual traits of your chosen cultivar in mind.
You'll also notice that our calendar takes the time of year and the position of the moon and sun into consideration. Many gardeners work around the moon cycle due to the way the celestial body influences movements of moisture, sap, and subtle energies.
Start germinating your seeds indoors around February 27th if you live in a cooler climate. This date falls just before the full moon and encourages larger and more aromatic buds.
The spring equinox takes place on March 20th. During this time, the sun crosses the celestial equator, marking the first day of spring. Longer days and increased sunlight mean the growing season has begun! The seed will take anywhere between 2–7 days to complete germination and enter the seedling stage.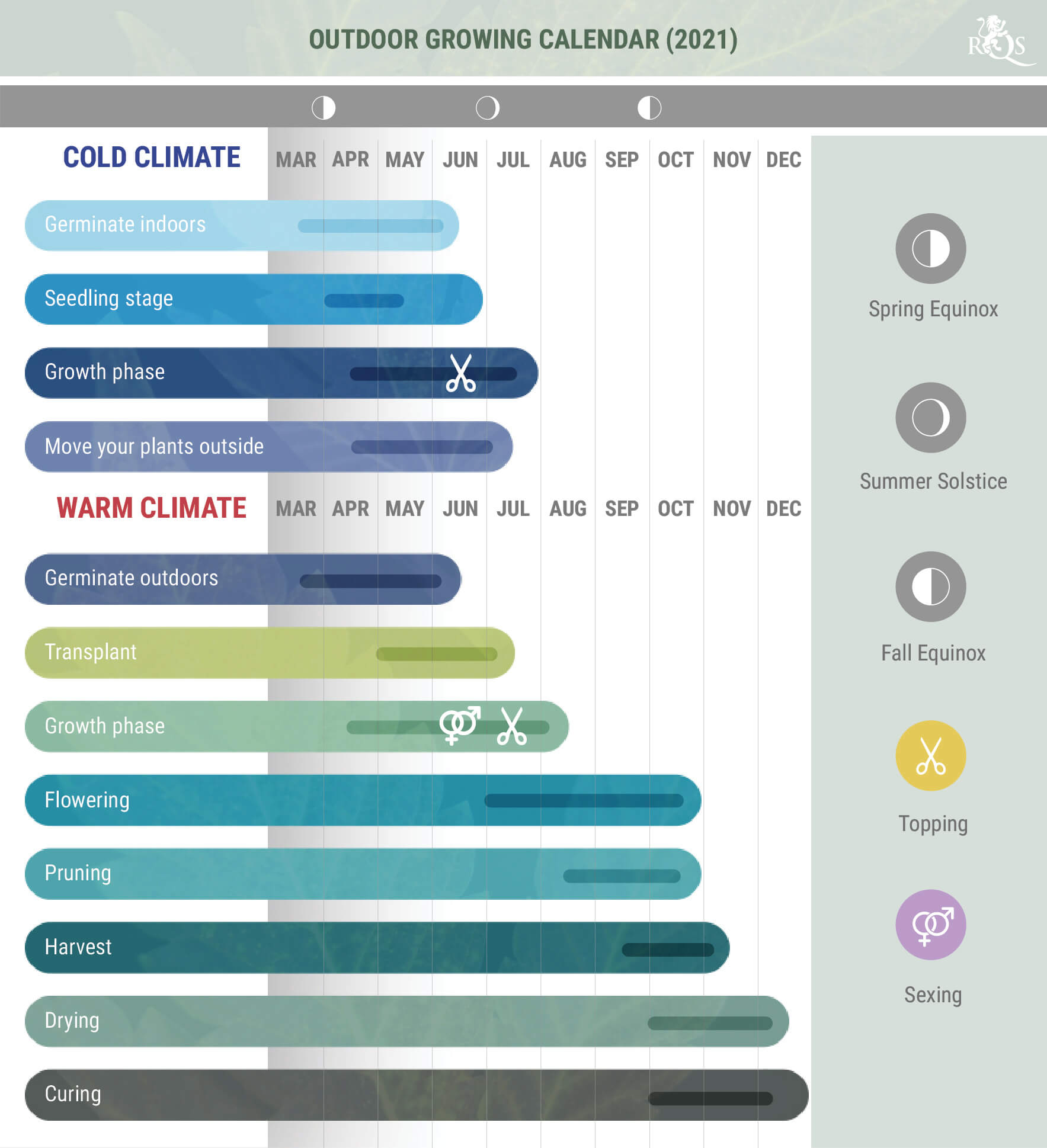 Seedling Stage / Growing Indoors
The seedling stage lasts around two weeks before the vegetative phase begins. Continue to raise plants indoors in colder regions until mid-April to meet temperature and light demands.
Sowing And Moving Outdoors
If you live in a warmer climate, now is the time to germinate seeds directly outside. You'll also be able to move indoor plants outside and transplant them into soil or larger containers.
If you decide to orient your grow around the lunar cycle, aim to transplant while the descending moon enters its crescent phase.
After transplantation, plants will become established in the ground, continue vegetating, and put on some serious mass. The shift into summer will see them receive plenty of light. They'll continue to stretch upward as the North Pole reaches its maximum tilt towards the sun.
Once your plants settle in, growers have the option to top and train them. Doing so will increase their yields, open up their canopies, and make them easier to tame.
Measures such as low-stress training can be conducted throughout June and July into early August. After this, plants will begin edging toward the flowering phase, and additional training won't be beneficial.
Aim to top and train your plants when the ascending moon is in its crescent phase, ideally in a water constellation.
Before flowers appear, your plants will enter the pre-flowering phase. Use this time to sex your plants to ensure no unwanted males end up fertilising your ladies. Pre-flowers occur at the nodes—points at which each branch meets the main stem.
Female pre-flowers feature a small bulb and a protruding hair, or pistil. In contrast, male pre-flowers feature a hairless bulb. Remove any males if you're not looking to create seeds.
Your plants have entered the flowering phase. As the fall equinox approaches, the days begin to get shorter, and plants get the signal to blossom. Tidy them up and make sure each bud site has an adequate amount of light exposure.
Prune your crop between mid-July and the end of August in preparation for harvest time. Snip away excess fan leaves during a descending moon in the waning phase.
Perhaps the most exciting time of the entire grow occurs between mid-September and mid-November. It's time to revel in your hard work and harvest your precious flowers. The weather becomes cool, the days shorter, and winter solstice approaches.
Harvest your buds in the morning during a descending moon in the waning phase.